DevOps Assessment Powered by DORA
DevOps Readiness Assessment Powered by DORA
The path to DevOps can seem long and daunting. But it doesn't have to be.
We've partnered with industry renowned DevOps Research & Assessment (DORA) to accelerate your DevOps journey. As you probably know, DORA is a pioneer in helping organizations leverage technology to build faster, more secure, and more resilient systems. By offering a DORA-supported assessment, we can benchmark our customers' DevOps performance against the DORA knowledge base – which contains years of data from 2000 companies across the globe. By performing this comparison, we know right away which areas to focus on for the most immediate impact, decreasing the time to value for your DevOps transformation.
Begin Your DevOps Journey on the Right Foot
With a DORA-supported assessment, we can give you quick insight about how you compare to other organizations in areas such as key performance indicators (KPIs), culture alignment, and DevOps maturity level, so you know exactly where you are on your journey – and where to go next.
This granular information replaces the lengthy surveys, one-on-one interviews, and gap analyses that typically factor into creating a DevOps assessment. By leveraging DORA's continuously up-to-date industry data, the bulk of the up-front research is already done. So we can collapse the assessment phase and get you on a faster, more precise track to DevOps success.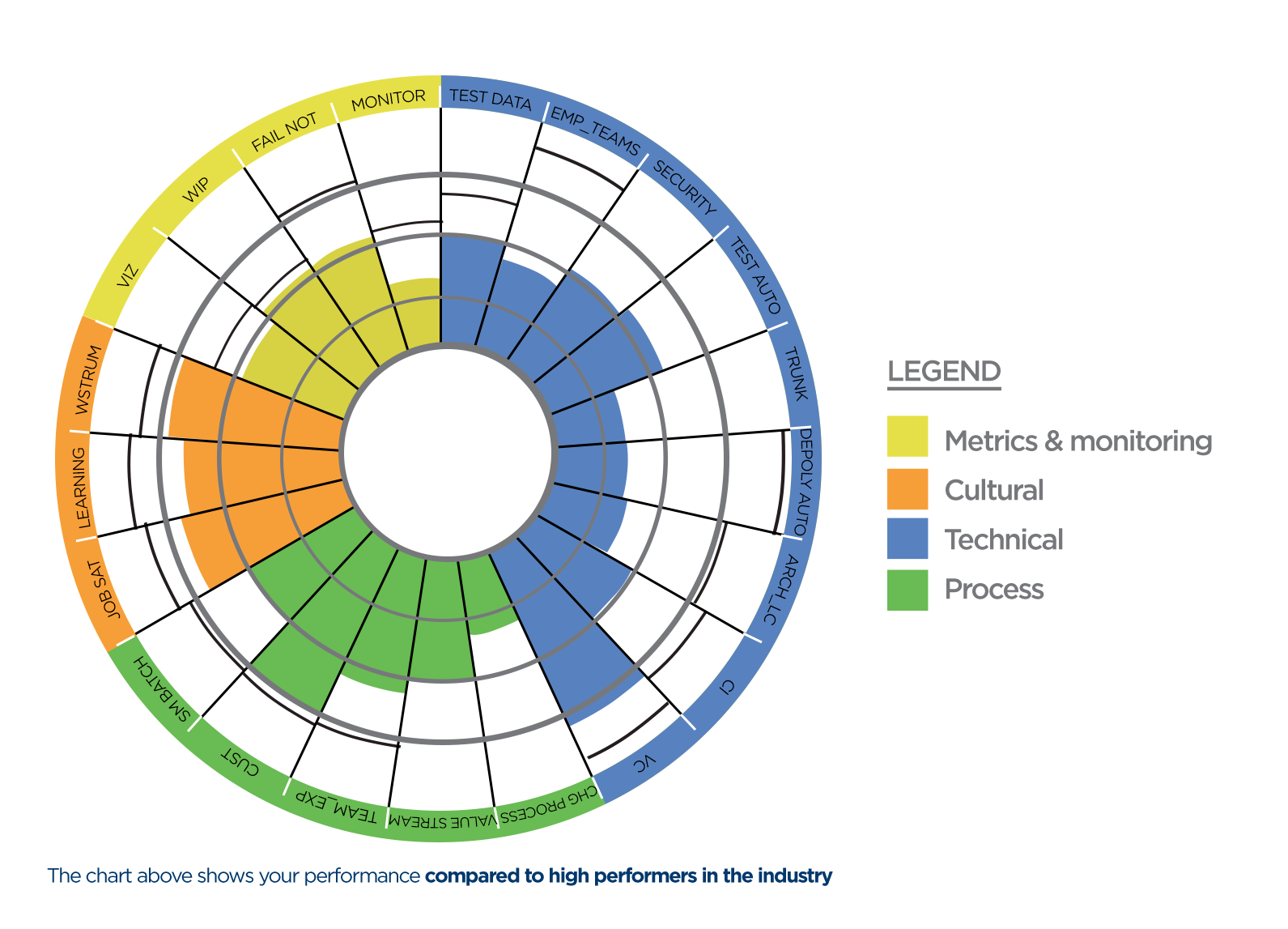 With this intelligence in hand, you'll also be in a stronger position to get full buy-in from the executive suite and other departments in your organization. After all, it's the people that drive the success of a DevOps transformation.
The Forty8Fifty DevOps Difference
Our team draws from a wealth of experience and long-lasting relationships with industry leaders like DORA, to help companies of all sizes achieve the speed and responsiveness of DevOps. We work with organizations in all stages of their DevOps journey with diverse business goals and varying access to resources. Our experts apply practical knowledge to create a DevOps environment that supports your business objectives and becomes a way of life for your people – while sidestepping many of the avoidable pitfalls that can take your journey off course.
Let us be your guide. Together we can navigate the complexities of your DevOps journey.
Forty8Fifty Labs was born a DevOps company, and after all these years, we still are. We eat, live, and breathe the culture so we understand the challenges you are trying to overcome. It's our mission – and our passion – to help your business grow faster and more responsive, while guiding investment decisions as you increase the capacity of DevOps teams, and effectively reduce time to revenue.
By delivering proven processes and services that enable organizations to optimize their development resources, our customers gain a serious competitive advantage.
Our customized solutions are designed to bring Development and IT Operations together, as one:
End-to-End DevOps Planning
Forty8Fifty Labs recognizes the goals of faster innovation, accelerated time-to-market, improved deployment quality, and better operational efficiency, which is why we leverage our real-world experience to bring you a comprehensive range of planning services. From readiness assessments and jumpstart programs to transformation gap analysis evaluations, we help organizations identify existing cultural, process, and technology divides that often prohibit successful DevOps initiatives. We also take the time to clearly highlight areas of concern and outline a personalized, practical action plan with prioritized recommendations.
Integrated Deployment Services
The consulting team at Forty8Fifty Labs has unparalleled expertise and a wealth of field-proven experience in deploying DevOps. Whether it is figuring out how to support continuous integration in agile environments or deploying add-ons to optimize your infrastructure, Forty8Fifty Labs can give you the secrets to making each of these critical initiatives a success. We help you navigate your DevOps journey and secure active stakeholder participation from your development, operations, and support groups to make each journey a companywide success.
Culture Realignment
One of the critical success factors in any DevOps journey is to establish a highly collaborative culture. Teams that learn together, evolve together. It is about turning daunting business goals into smaller, more manageable tasks that teams can deliver successfully, repeatedly, under strict timelines, and working in tandem with other teams throughout the organization. This is where our executive workshops and other planning services make a difference. We help you figure out how to break down traditional silos, promote cross-team communication, and develop a culture of constant process and product improvement that continues long after our engagement is over.
Your DevOps journey starts here
Whether your team requires custom integrations built around continuous integration/delivery, automated infrastructure provisioning, cloud integration, or a custom solution that's unique to your environment – we can help. Our experts will use your DORA-supported assessment to quickly evaluate your needs and identify the right toolset to get you on your way. We have what it takes to develop fast, scalable software solutions that can fuel your business transformation.
Get your DevOps readiness assessment powered by DORA and
unlock the secrets to bringing your IT tools and your people together.