Advanced Email Decisioning and Automation for Jira and Jira Service Management
The Problem:  Organizations spend too much time and valuable human capital manually creating and managing multiple issues/tickets from information contained in inbound email or forms.
The Solution:  Automated issue/ticket creation and updates based on email content – SmartHandler for Mail from Forty8Fifty Labs.

Automatically Monitor, Analyze and Act
SmartHandler for Mail allows Jira and Jira Service Management users to automatically monitor, analyze and act on email (or email-based form) content.
Customizable Logic & Scoring Engine
SmartHandler for Mail leverages a powerful, dynamic logic and scoring engine to execute actions based upon specific email content… without the default limitations imposed by other handlers.
One Email, Multiple Tickets
SmartHandler for Mail supports advanced, complex issue/ticket creation and update scenarios. A single email can trigger multiple create/update actions across multiple projects.

SmartHandler for Mail – The most flexible, powerful way to make email actionable within Jira and Jira Service Management environments.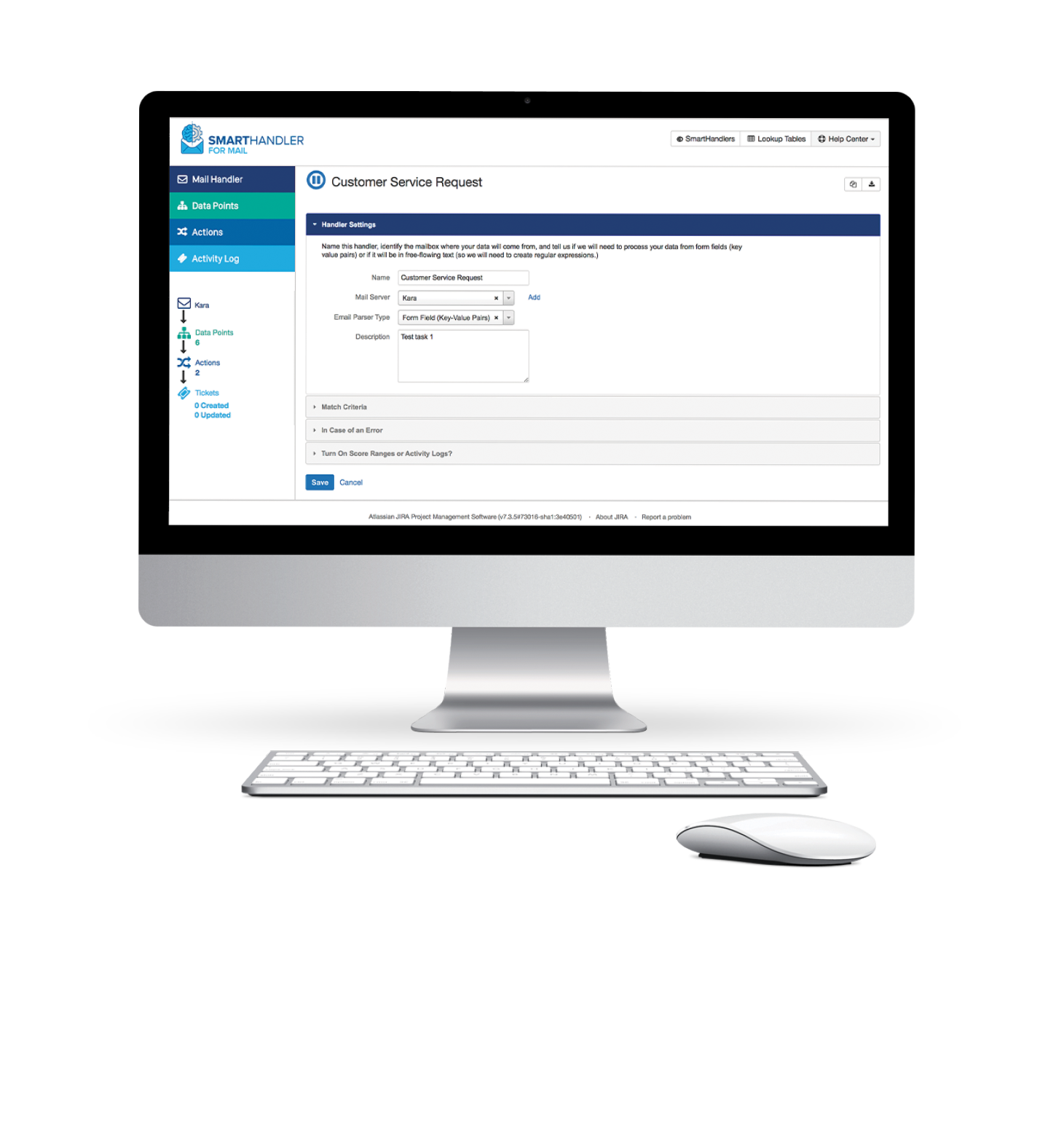 Turn Emails Into Actions
IT Operations (ITOM/ITSM)
Automate creation and updates of tickets for infrastructure operations teams.
Security Operations
Create and assign detailed security review tickets based on business impact and risk scoring.
DevOps
Create and update interdependent issues and tickets across Development and Operations from a single email.
Business Departments
HR, Finance, Marketing, Planning or Project Management: Automatically generate complex requests and updates for projects, finance workflows, new hire on-boarding, marketing initiatives and events and more.
Other Uses
SmartHandler for Mail supports any function initiated by email or email-based forms.
Monitor multiple mailboxes with unlimited SmartHandlers.
Update multiple issues/tickets across multiple projects with one email.
Create custom if/else logic and use logical and/or operators to make decisions and take actions based on the data you define as important.
Decisions are made on a field-by-field basis according to the real-time data in the incoming email, for dynamic logic – not static, fixed field data.
Go beyond default limitations – SmartHandlers can create or update tickets based on system or custom field values.
Upload lookup tables for cross-referencing of data that will be added to your new or existing Jira ticket.
Advanced data-mapping with support for Key-Value Pairs or Regular Expressions (RegEx) – you can quickly create Key-Value Pair Data Points just by pasting an email.
Unique point-based scoring system can trigger additional actions.
Works with templated responses to trigger actionable Jira ticketing requests.